I first heard of ServeMaster through a friend and he swears by it
Just a quick line to say "I'm honored!" to talk with you as, having watched your videos and believe in your product(s) you seem like a true innovator at tennis. While I'm just another "club level Charlie" your game, your instructions and the thoughts you put behind them are wonderful. I'm a fan- thanks again. I first heard of ServeMaster through a friend and he swears by it and his serve has improved like 25%. Amazing.
~ John in Puerta Vallarta
---
I played the best tennis I can remember for the last 5 or more years.
Monday, Nov. 26, my play was not stellar. I did not use the ServeMaster before playing and my game was lackluster. Last night, however, I showed the guys your device by warming up with it. They were non-comittal. That simple series of movements that you advised began a kaleidoscope of events for me the rest of the 1.5 hours we played. It was as if I had discovered the fountain of youth! I played the best tennis I can remember for the last 5 or more years. No joke. No hubris. Unbelievable. You said, '...be ready for anything...' but I really didn't expect what happened. My serve was dynamite. After serving two or three games I started noticing that they were standing further and further back while receiving my serve which I did not come close to losing the entire evening.
~John Wood, tennis enthusiast
---
I got over my serve "constipation" with ServeMaster
I just used Servemaster for a bunch of serve practices. I bought it recently and I just couldn't believe how much better I was serving . I just realixed my previous serve action has been hampered by a severe case of "constipation" – so obsessed with every position of the serve action that It was just broken up!
Servemaster got me back to one continuous motion and both my tempo and rhythm are so much better – and I could actually achieve the racket drop position naturally – which I could never achieve before consciously.


anonymous Servemaster user
---
Every coach should have one in their basket!
"The serve master is awesome! Great way to teach players the service action. Every coach should have one in their basket!"
---
"It helps you FEEL what you can't see"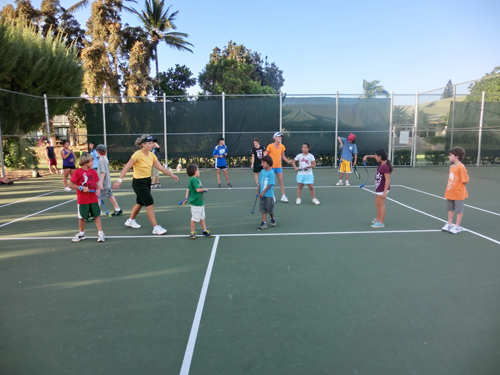 "In tennis there are very few things that have come along for helping all aspects of the serve.
The ServeMaster actually does what it says it does: it helps you FEEL what you can't see and accentuates snap so that you can really feel what it means to accelerate up to the ball. Elasticity and flexibility of the cord ensures a full "drop" in back and develops the correct relationship of racket to body. I have never seen a product this simple and effective for the serve.
I had the biggest serve in the world serving over 140mph in the 1980s without all of today's racket technology. I understand what it takes to make this happen. The ServeMaster develops power & spin simply. When letting your arm and wrist completely relax and allowing the weighted end to" drag " in back you are able to feel the whip. Incorporating this motion with rotation is key to gaining power.
The ServeMaster is a simple tool that can be used anywhere, anytime for maximum gains in speed and spin on your serve. Every pro and player should be using it routinely to develop sound technique for a great serve."
~Eric Korita, Former Pro Tennis Player & VP Sales at ReBounces
---
"ServeMaster accelerates learning and improvement."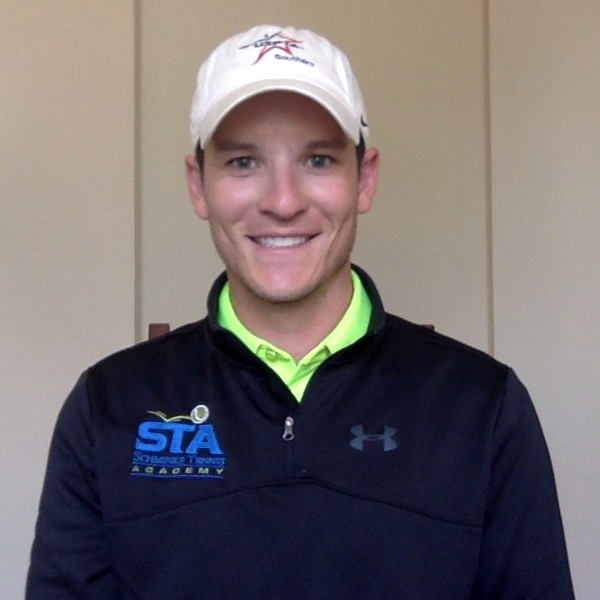 "Servemaster is without a doubt one of the best teaching aids I have used to date. It troubleshoots all sorts of serve issues such as tempo, ball toss, balance, leg use, reaching up, and generating more power. Servemaster is the answer to decreasing a player's learning curve when it comes to serving. Over the past two months, I've been introducing the Servemaster to both students who have never hit serves before, and those who have hit thousands. It works on absolutely all fronts, a feat that not many teaching tools can claim. No longer do I have to breakdown the serve motion into little steps.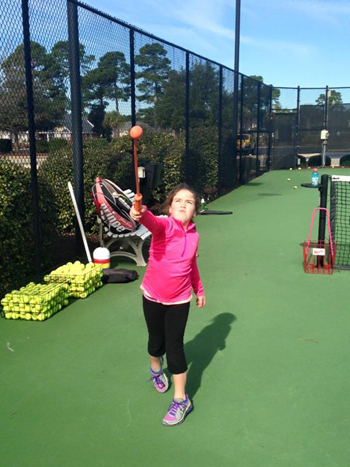 My students have picked up the basic serve motion and are hitting great serves within five minutes. For beginning servers, I always help by tossing the ball for them, allowing them to work on just the swing motion. Experienced servers have been amazed at the additional power they are able to generate from the continuous serve motion. That means no more start and stop robot serve motions. It's been smooth fluent swinging for every one of my students after just one lesson."
~Mark Schminke, USPTA South Carolina President
---
"Thank you to Lisa Dodson for this incredible tool!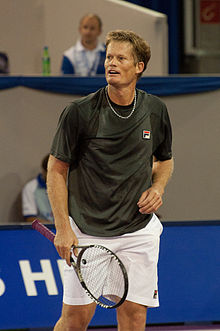 "Thank you to Lisa Dodson for taking the time to create this incredible teaching tool! Our kids use the ServeMaster daily at Top Ten Academy in Berkeley, CA. In all the years I've been teaching I've never come across something that has made the rhythm and timing of the serve so easy. All of my students, no matter how young, can get the swing of the serve down after just a few minutes with the ServeMaster! Wayne Ferreira and I are always having our players utilize the ServeMaster to keep developing the proper swing shape and follow thru. The ServeMaster also teaches the proper shifting of weight from the front to back and front again and dramatically improves tossing skills. This teaching aid is also a must for every adult who needs help with every aspect of their serve as well as for every child who would like to have the proper fundamentals from the beginning. Also the way the handle is designed allows the grip to easily stay in the difficult continental grip and the different weights in the head end teach relaxation, hitting up and pronation."
~Wayne Ferreira (Former ATP #6; Coach; Mentor) and Rosie Bareis (Top Ten Tennis Academy; Former #1 Nationally; World Class Junior Developer)
---
"Learning all of that becomes easier and FUN!"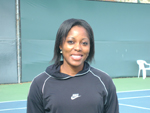 "Teaching the correct rhythm of a serve is usually a challenging act . We have to teach inexperienced players how to coordinate the toss, the motion of the arms, the swing, the legs, the follow- through... all of that in a few seconds. We break it down as much as we can, but this can still be intimidating for them. With the Serve Master, learning all of that becomes easier and FUN! I have used the Serve Master for about 2 years now, and it has helped my students develop a better serve faster.
They love how they can always find that continental grip, and they think the tool is so fun. First, when they see the Serve Master, they all want to try it. They think it's so cool. After a few practice swings with it, they find it so much easier to swing with their racquet and their percentage of success increases. They love it, I love it, life is good. Thanks Lisa for this great invention."
~Lille (Track My Tennis.com Founder)
---
"Yes! It helps with everything. "
"I have played tennis since I was 5 years old and have always enjoyed the challenges of learning and practicing fundaments equally with joys of playing.
I have been using ServeMaster regularly for 3 years and have found marked improvement in my entire game. The newest version of ServeMaster provides an improved simulation of actual play for both serving motions and ground strokes. Simply, it feels more like using my own racket I use ServeMaster for serving, ground strokes and volleys. Yes! It helps with everything. I practice daily in my back yard for improvement in my game on court. Thanks for your hard work and dedication. I appreciate your efforts.
~Dr. Fred Morrison, Florida player
---
"The ServeMaster is totally cool!"
"The ServeMaster is one of the best tools I have found for helping students "feel" how to produce a fundamentally sound tennis service motion. It is a great aid for warming-up before matches or before serving in a lesson. The ServeMaster is totally cool!"
~Ken DeHart, Master Professional, PTR & USPTA
---
"I replaces all of the old "homemade" serve remedies."
"I have been teaching tennis for 30 years and the ServeMaster has now finally given me an incredibly useful tool to help students get the FEEL and UNDERSTANDING of how the racket head is supposed to flow through the air and accelerate up to the ball for a strong serve. The serve is not an easy shot to teach but with the ServeMaster we teaching pros have no excuse when it comes to teaching the serve.
The serve is something that is very difficult to teach with a racket alone. The ServeMaster has been a great tool to teach not only the motion but also to warm up the muscles of the arms, shoulders and back and act as a mechanism to for timing. It also stretches and works the core and can be used for learning the modern top spin forehand as well as the one and 2 handed backhands. The ServeMaster replaces all of the old "homemade" serve remedies. It is a MUST to have in your bag for practice anywhere!"
~Helle Viragh Sparre (former world class professional and national doubles champion)
---
"I can feel a difference in my serve movement."
"After using the ServeMaster for just 2 days, I can feel a difference in my serve movement. As a layman, I would describe the change as involving more of my upper body, the shoulders, and a more complete follow through to the point of catching the device. I'm very impressed with it's effectiveness and would encourage our club members to try it out."
~Dick Huddleston (Red Deer Tennis Club, Alberta, Canada)
---
"We have loved using The ServeMaster!"
"It has helped tremendously with our players that have a broken serve (starting behind the head) for developing the full motion. It is a great tool to smooth out rhythm and timing on serves and it is easy to teach with and use. We have used it with kids age 4 and up and it has been AWESOME!"
~Drew and Alecia Machholz (Tennis pros and 10 & under promoters)
---
"Serve In 30 video course is Outstanding!"
"I had even recommended this course (Serve In 30 by Lisa Dodson) to my son who received his professional certification years ago at Forest Hills. The serve is the most difficult stroke to teach. This course puts all the components together in an organized and logical fashion which makes even someone who is played for years able to change his serve."
---
"It is as is they have unlocked a secret!"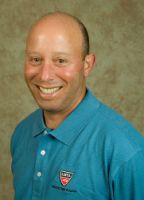 "What I love about the ServeMaster is how easy and convenient it is to put in the hand of a student and get them to feel how the racket is supposed to travel during the service motion. Once a player gets the hand of it and can move it correctly, I have them switch back to their racket and try to replicate the same motion. Then I have them go for it! This is usually followed by a big smile on their face as they start to understand how much easier it can be if they allow the racket to move through the motion. It is as if they have unlocked a secret."
~Bobby Bernstein, Tour and Academy Professional
---
"I have used the ServeMaster with college and club level players"
"The manner in which Lisa coaches the use of the ServeMaster tool is excellent for understanding every aspect of the serve. I have used the ServeMaster with college and club level players. It creates rhythm, acceleration and proper finish. A must have in your coaching tool box."
---
" I am happy to be serving again and playing competitive doubles
"I developed bi-lateral shoulder impingement which kept me from playing competitive tennis for more than a year. During that time I could not toss up the ball or swing a racquet overhead. When my shoulder range of motion returned I had lost the kinesthetic feel of my service swing. I met Lisa Dodson and bought a Total Serve. I use the Total Serve for warm-up exercises, and store it in my tennis bag. The Total Serve has assisted take back, rhythm and feel of my service swing. I am happy to be serving again and playing competitive doubles with my fellow Tennis Pros. I recommend the Total Serve for anyone who is interested in a correct serve – the most important shot in tennis."
---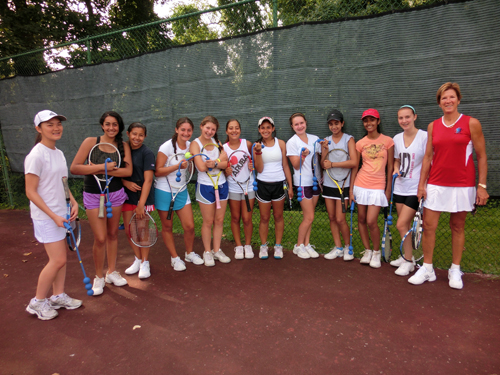 "Very impressive!"
"Lisa came onto my high school courts stocked with her weapon of choice, ServeMaster. In less than 20 minutes she had worked her magic and I learned how to make significant progress on the serve with a large group. Very impressive! The guys on my team were able to fill in holes in their technique, reinforce the correct grip, and increase fluidity and rhythm in their motions. We even got some smiles as they experienced 'Aha moments' when it felt just right. Now they can feel what the serve is supposed to feel like."
---
"The ServeMaster should be in every tennis player's bag!"
"The rhythm of the tennis serve can take years to master. ServeMaster quickly teaches a tennis player the proper serve mechanics. I love any tool that shortens a student's learning curve. The ServeMaster should be in every tennis player's bag!"
---
" If you are a player struggling with your serve this is a must"
I have been on court for more than twenty years and seldom has a teaching aid been created that accomplishes its goal. ServeMaster is an exception to the rule. If you are a player struggling with your serve this is a must have. If you are a coach trying to communicate the service motion let the ServeMaster make the demonstration for you. Put the ServeMaster in your player's hand and let them feel how a serve should feel. Great job Lisa!"
---
"I use ServeMaster all the time ..."
"I use ServeMaster all the time and I'm finding that players who already have good serve technique discover new things about their serve. They can immediately start working on the changes by feeling the difference between what they do and what is ideal. I also use it a lot for the forehand & it actually works really well. It forces them to get more body rotation forward into the ball & helps them get more power into their shot. It instantly changes their technique and helps them feel how to "cover" the ball and where the follow through finishes. It's a great tool all around."
---
See more reviews and follow us on social media: